BJS (British Journal of Surgery)

Impact factor (2022):
6.939
© BJS Society Limited. Published by John Wiley & Sons, Ltd
BJS (British Journal of Surgery incorporating the European Journal of Surgery) is the premier peer-reviewed surgical journal in Europe. BJS has a tradition of publishing high-quality papers in breast, upper GI, lower GI, vascular, HPB, and endocrine surgery, and surgical sciences. Content includes Leading Articles, Reviews, Original Research Articles, Systematic Reviews, Meta-analyses and Randomized Clinical Trials.
As of January 2021, British Journal of Surgery is no longer published by Wiley. Current content can be found on the new publisher's site: https://academic.oup.com/bjs
Articles
There are no results at this time
Featured
Skip slideshow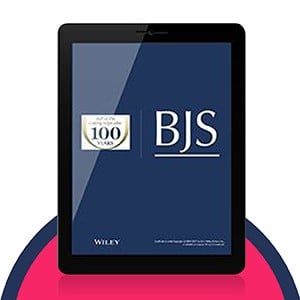 Keep up with important developments in the field of surgery even faster and enjoy a new, optimised browsing and reading experience with the BJS journal app.
January 2018 special issue on cancer surgery in the genomic era. Access the online only issue here.
Journal list menu